LE PURE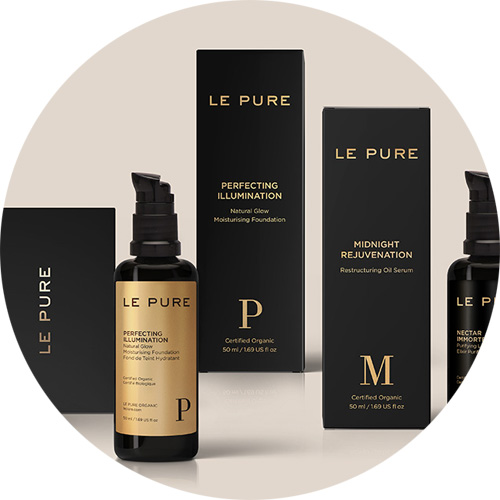 Le PURE creates potent skin-transforming superfood potions packed with high-vibrational, certified organic plant bio-actives for quick and visible results.
Scientist and cosmetologist Marie Carrasquedo, founder of LE PURE with Julia Atzesberger, has investigated during 45 years to create a cream that contains 100% active unaltered natural ingredients. The result is a revolutionary organic emulsion that penetrates the deep layers of the skin and restores its elasticity from the inside at the origin of all LE PURE clean and natural beauty products.
Each LE PURE antiaging formula is based on the healing powers of medicinal plants and contain the highest grade, raw, nutrient-dense superfood for the skin with absolute concentration thanks to a unique manufacturing process that preserves all rejuvenating plant nutrients.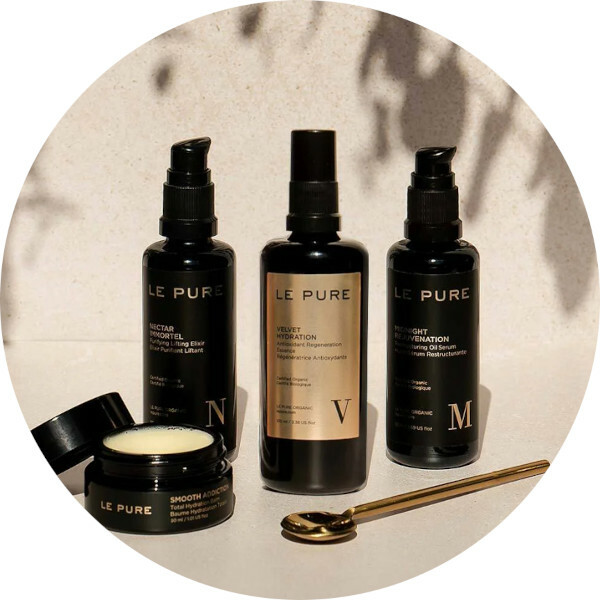 Know more about LE PURE

Why we love LE PURE ?
Its 100% active formulas with unique efficiency
The concentration of unprocessed superfoods with optimal bioavailability
Its medical glass packs to preserve all the benefits of the products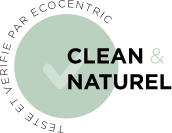 LE PURE skincare

LE PURE's antiaging formulas are based on the healing powers of medicinal plants and contain the highest grade, raw, nutrient-dense superfood for the skin.

45 years of scientific investigation of medicinal plants and their antiaging effect on the skin are the basis of LE PURE unique high-performance skincare range.

The absolute concentration of 100% active precious high-vibrational, certified organic plant ingredients that work in synergy and invigorate each other are the basis of LE PURE skin-transforming superfood potions with a progressive cellular rejuvenation that transforms the skin from the inside out.
History of the organic cosmetics brand Le Pure
Julia Atzesberger met Marie Carrasquedo, while searching for a solution to treat her acneic skin. After their very first meeting, she was deeply impressed by her in-depth know-how about the skin, medicinal plants and nutrition.

The more Julia learned from Marie, the clearer it became for her, that she wanted to share this knowledge with more people.

Marie has been fascinated by the healing powers of plants since her early childhood. A passion that lead her to study natural therapies, aromatherapy, osteopathy and homotoxicology. While working for a famous laboratory 45 years ago, she investigated the negative effects of parabenes and decided to create her own skincare products.

Her skincare formulas are based on organic plants and minerals, and she managed to eliminate all "green chemistry" substances. Organic certifications tolerate chemical modifications of natural ingredients, but Marie considers that they have no benefit for the skin and should therefore not be found in an organic cosmetic.

When Julia started to use Marie's formulas, her skin underwent an incredible transformation. The secret behind them was the purity of the ingredients and the highly effective combination of powerful plant nutrients.

Building on Marie's 45 years of know-how about medicinal plants and organic formulations, the two women decided to develop the purest organic cosmetics on the market : LE PURE skincare, the name speaking of itself.

LE PURE is an organic luxury skincare line, which combines the most powerful botanical nutrients to create the most effecting holistic antiageing compositions on the market.

All LE PURE beauty products are handcrafted in small batches and with edible ingredients that the skin can transport to the deep layers in order to regenerate itself.

Selected with the greatest care by LE PURE, these raw, vegan and organic ingredients of the highest quality are all organically farmed. Each plant comes from passionate small farmers, who help preserve the biodiversity of our planet.

Julia Atzesberger and Marie Carrasquedo, Founders of LE PURE skincare

Julia Atzesberger, Founder of LE PURE
The philosophy of the organic brand Le Pure
The two founders of the LE PURE brand, Julia Atzesberger and Marie Carrasquedo, have therefore given themselves a clear mission: to create highly effective, sustainable skin products while offering them at affordable prices. They believe that the best quality organic cosmetics should be available to as many people as possible.

The quality of a skincare product is determined by various factors, just as in cooking: the recipe, the quality of the ingredients, the preparation. When it comes to food, it's much easier to tell a good quality dish from a poor product. In beauty, it is not always so easy! It takes some knowledge to really know what we put on our skin. The formula, the quality of each of the ingredients and the production methods are essential for the final beauty product.

It is this philosophy which is at the heart of the LE PURE skincare brand: cosmetologist Marie Carrasquedo has devoted more than 45 years of research into plants and their healing properties. Her sensitive skin and her passion for plants led her to develop her own formulas and to build her own laboratory to produce them. This is how the natural brand LE PURE sets new standards in all these areas and far surpasses all existing certifications in organic cosmetics.

Hydrogenated fats, waxes and gums are commonly used in organic creams as well as in more conventional creams. Marie has worked very hard to remove all the ingredients that clog the skin and prevent her from breathing freely.

Most cream formulas look a lot like the ones shown in this chart. The use of chemically modified fats requires large amounts of water to create the emulsion. The LE PURE brand has succeeded in eliminating all the ingredients that it considers to have no benefit for the skin.

The ingredients used in LE PURE products are all bioavailable superfoods and the production process keeps all plant nutrients intact. They are thus recognized and immediately absorbed by the skin, which allows it to breathe freely, eliminate toxins, and regenerate itself deeply and durably.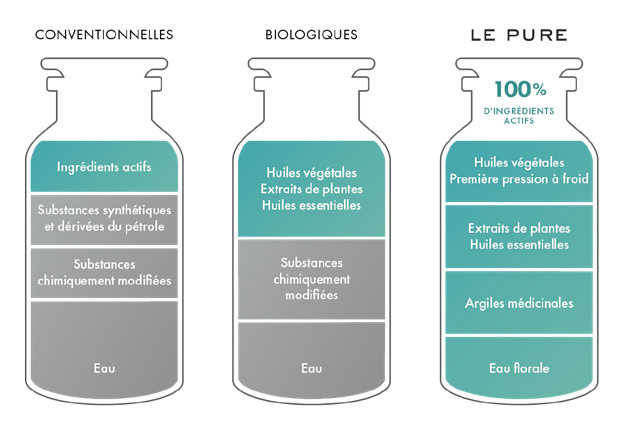 Le Pure skincare brand commitments
Unlike most other formulas on the market, the brand has eliminated ALL substances that do not have beneficial effects on the skin. All synthetic and filler ingredients, which are not recognized by the skin, have therefore been left out.

Each LE PURE beauty product is therefore made up of 100% active ingredients, each of the formulas is a balanced combination of nutrients, which potentiate each other and allow the skin to regain its natural balance.

For the manufacture of its natural beauty products, LE PURE only uses substances resulting from the first transformation of plants. Thus avoiding multiple modifications of the original plant through synthetic processes and substances, which would reduce the total number of beneficial nutrients.

The 100% concentration of active ingredients comes from the exclusive use of such physical transformation processes such as cold pressing and maceration, thus preserving all the rejuvenating nutrients of the plants.

All plant extracts are prepared in LE PURE's own laboratory and are therefore not purchased from third parties for absolute traceability and guaranteed quality.

The LE PURE laboratory was designed for the production of the purest organic cosmetics: all production methods are extremely delicate to ensure the conservation of all nutrients.

LE PURE creams do not need to be heated to high temperature during the production process and the ingredients thus retain their active substances. The emulsions are heated to a maximum of 36-37 degrees C, corresponding to the temperature of the human body. All steps are performed at low temperature, thereby preserving the plant's most fragile components: enzymes, vitamins, polyphenols, etc.

Nature is years (millennia!) ahead of human beings in all areas. That's why it's more beneficial to learn from nature than to try to overcome it with tricks. The best solutions always come from Nature, and LE PURE products are therefore inspired by biomimicry.

Marie Carrasquedo, for example, did research on adaptogenic plants: she studied all the substances present in all parts of the prickly pear in order to decipher these molecules which allow it to withstand long exposure to sunlight, without any water supply. It is all the richness of nature that enhances LE PURE skincare formulas and makes it a brand of natural and clean cosmetics apart.

LE PURE uses the purest ingredients from adaptogenic plants without chemical transformation.
The expert beauty routines of Le Pure
LE PURE has succeeded in creating a fairly short range of natural beauty products that allow absolutely all skin types to be treated by combining them differently thanks to routines that are both simple (no more than 3 or 4 products) and incredibly effective.

Scrupulously following these routines is the guarantee to quickly feel (and see) all the benefits of LE PURE's organic and natural skincare. The brand has also created Treatment boxes containing all the necessary products in 15ml size tailored for the most common skin conditions: sensitive skin, acne, wrinkles, dull skin, oily skin ...

It is important to specify that LE PURE products are suitable for the most reactive skin types, and can be used during pregnancy, breastfeeding and medical treatments such as chemotherapy.

The hypoallergenic formulas contain appropriate concentration of each active ingredient for maximum effectiveness while ensuring compatibility with the most sensitive or fragile skin types.
Thus essential oils are for example used in their physiological dosage, that is to say in the same quantity as we find them naturally in fruits, such as apples or oranges.

Each LE PURE beauty product is represented by a letter that can be found on the bottle and the box in order to designate it in a simple way.

Using these letters, here are the LE PURE beauty routines for each skin type:
Routine beauté du matin
Routine beauté du soir

Soins complémentaires (nombre de fois par semaine)

Peau normale

D + V + W
D + N + M

1 x I + 1 x T

Peau grasse

D + V + W

D + N + M

2 x I + 1 x T

Peau sèche ou couperose
αT + V + J
O +

αT + M

1 x I + 1 x T

Rosacée ou peau réactive

αT + R + M

O +

αT + R + M

I sur les zones concernées
Peau acnéique adulte

αT + W

αT + N + M

5 x I

Hyperpigmentation ou dermite séborrhéique

αT +

W

αT + N + M

3 x I + 2 x T

Dermatite atopique (

neurodermite

ou eczéma atopique) ou hyperkératose

αT + V + M

O +

αT + V + M

I sur les zones concernées

Acné chez l'adolescent

αT + D

N + D

5 x I

Pour les hommes

αT + αC

αT +

αC
Credits : LE PURE