Visoanska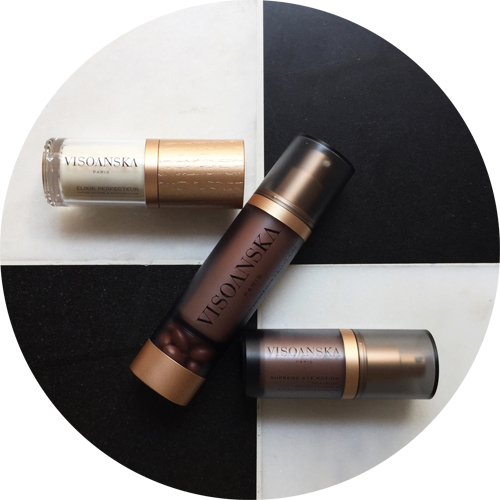 French luxury clean skincare brand, VISOANSKA is the first to have combined, within a single innovative bottle, a topical skincare and nutritional supplements that simultaneously and effectively target from the inside and on the outside, all the factors and signs of skin ageing on all skin layers.

Always striving for excellence, VISOANSKA scouts the world to source the best of Nature's treasures: medicinal plants extracts, bioactives from plant grown in extreme climates with rich phytochemical composition, potent cosmeceuticals and biotechnological peptides... for natural beauty products with ultimate potency.
Engineered with unprecedented concentration of phytonutrients, VISOANSKA skincare products are formulated with 100% natural active ingredients or that naturally occur in the skin and more than 30 anti-aging patents to guarantee natural and high-performance skincare, each claim and all results beeing scientifically proven.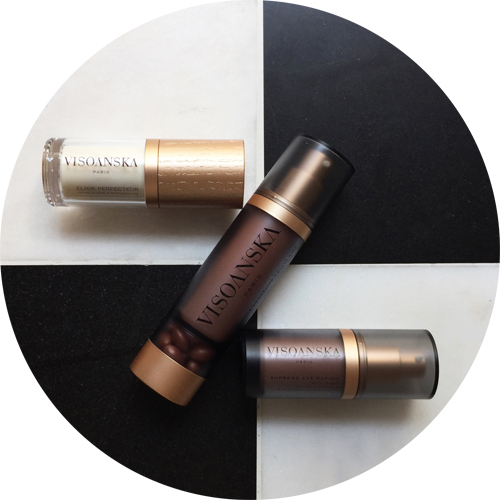 Know more about Visoanska
VISOANSKA

Visoanska is the French clean eco-luxury beauty pioneer with potent treatments formulated with natural active ingredients at the forefront of biotechnology.

Visoanska skincare formulas are ultra concentrated and combine no less than 30 patents guaranteeing their effectiveness with the development of new vectorization modes contributing to the optimization of the activity of molecules, the innovative encapsulation of active ingredients to maximize the duration of their effectiveness, the development of innovative preservation systems to avoid the listed preservatives, the creation of peptides with targeted actions or the isolation of rare plant stem cells.

Visoanska is the successful symbiosis of the force of Nature at the origin of adaptogenic plant extracts and the genius of man who has been able to isolate these molecules with exceptional properties to benefit skin care.
History of the luxury natural cosmetics brand Visoanska
The story of the Visoanska brand is that of the passion, energy and high standards of a woman: Elisabeth Visoanska. Committed body and soul, proud to be able to say that she has not compromised on anything, she is inseparable from her brand, which she embodies through her beauty, her philosophy and her life course.

It is therefore natural that the Visoanska skincare formulas obtained after long years of research bear her name.

Suffering since childhood from a very delicate skin prone to blemishes, her grandmother very quickly introduced her to beauty gestures with a global approach. Elisabeth learned to take care of her skin from the inside and the outside with a holistic approach that takes into account all the factors that influence the condition of her skin.

Coming from a family of humanists passionate about music and art, Elisabeth Visoanska saw her childhood bathed in a culture of excellence and a passion for beauty in the broad sense. After studying music and literature, her passion for beauty and skincare takes over and leads her to the medico-pharmaceutical sector with the secret dream of creating her own beauty brand.

It was in 2005 that she decided to take the plunge by surrounding herself with the best French researchers in cosmetology, dermatology but also nutrition. For three years, she led this team of extraordinary specialists to develop expert natural beauty products combining the purest and most innovative active ingredients.

This advanced research results in innovative formulas designed with ingredients from extreme nature optimized by biotechnology. Banning from Visoanska skincare formulas silicones, chemical emulsifiers, parabens, petrochemical derivatives ... Elisabeth Visoanska created out of conviction one of the first clean beauty brands, ahead of its time. The Visoanska brand corresponds to the vision of a XXIst century cosmetology, its most complex issues, its most exciting challenges with ethics but without nostalgia.

Always passionate about luxury, the real, the one whose quality is intrinsic and, the value, lasting and demonstrable, Elisabeth Visoanska has designed her skincare range for the most demanding of her contemporaries, women in search of a high-quality beauty products with no compromise. In 2014, the Visoanska brand became a member of the Vendôme committee, among the most prestigious French houses which embody the quintessence of good taste.

The Visoanska brand now offers a complete anti-aging range, combining performance with nature and the refinement of exceptional skincare.

Elisabeth Visoanska, Founder of Visoanska (credits Christophe Roué)
The philosophy of the visoanska natural brand
Learn to stay young

Daily aggressions, oxidative stress due to free radicals, and quite simply the passing of time are all factors of skin aging. To train the skin to stay young and beautiful, the Visoanska brand has created a complex of synergistic active ingredients that go beyond the traditional limits of cosmetology. Medicinal plants used for centuries, molecules from extreme nature, essential phytonutrients, cosmeceutical active ingredients and innovative peptides: refusing cleavages, beauty according to Visoanska embraces the 21st century combining cutting-edge biotechnology, ancestral knowledge and wild nature.

Beauty inside and out

The Visoanska brand has developed real youth concentrates with anti-aging and anti-oxidant action, food supplements to be used in synergy with the brand's face creams for total effectiveness: exogenous and endogenous. Designed to curb the harmful effects of pollution and free radicals, the supplement formulas for day and night share a base rich in red baobab fiber which is 65 times more antioxidant than vitamin C.

The daytime formula is invigorating and energizing, thanks to mate and cranberry extracts, protective thanks to apple polyphenols, and moisturizing thanks to algae extracts.
The night formula acts on cell metabolism thanks to coenzyme Q10, remineralizing turmeric and bamboo extracts and grape and blackcurrant polyphenols.
The commitments of the Visoanska brand
The Visoanska skincare brand is based on a modern conception of luxury based on the strength of its commitments and the intrinsic quality of its skin treatments : clean beauty products that are both qualitative and respectful of the environment.

Avant-garde and concentrated formulations with proven effectiveness

The Visoanska brand rejects cleavages by combining advanced technology, ancestral remedies and wild nature to jointly target all the skin aging factors identified to date.

The exclusive synergy of active ingredients developed by Elisabeth Visoanska profoundly modifies the behavior of the skin facing the onslaught of time, by regenerating the body as a whole.

With an unprecedented concentration of active ingredients reaching up to 86% per formula, Visoanska treatments aim for maximum effectiveness. All of the brand's products have been rigorously tested and each of its claims and results have been scientifically proven by independent laboratories.


An ethical cosmetics brand towards the environment

Ecology and luxury are sometimes considered as opposites, the vocation of the Visoanska brand has been since its creation to be in perfect harmony within these two spheres by engaging an environmental responsibility in the world of luxury while instilling luxurious experience into ecological products.

A pioneer in eco-luxury cosmetics since 2005, the Visoanska skincare brand is fully in line with the principles of what is called green chemistry, using a production process that respects the environment and biodiversity.

Its commitment to a sustainable beauty industry is reflected in the use of plant ingredients from renewable sources, cultivated without fertilizers or pesticides and obtained by gentle extraction methods, low in energy and without solvents, such as supercritical CO2 extraction both respectful of plant substances to preserve all the benefits and of the planet.

Likewise, Visoanska natural cosmetic products contain cultured plant stem cells to prevent the excessive exploitation of wild plants and thus preserve biodiversity: avoiding any collection from nature, agricultural cultivation or transport of material.

For its vegetable raw materials, the sustainable commitment of the Visoanska brand is reflected in a collaboration with suppliers who help communities and support local agriculture through in particular the PhytoTrade Africa program, actively engaged in a fair trade approach for ingredients produced in rural Africa.

Finally, regarding the packaging, which is certainly the main source of waste for cosmetics, the impact on the environment is reduced by using recyclable and biodegradable packaging when possible.


A clean and transparent cosmetic brand

Aware of the current demands for non-toxic but ever more sophisticated beauty products, the Visoanska brand is fully committed to creating formulas that combine immediate and long-term results with high quality ingredients.

By combining high-performance natural active ingredients or naturally present in the skin (such as peptides), Visoanska skincare products provide exceptional biological protection, to increase the mechanisms of cell longevity and improve the capacity of cells to repair their own genetic deficiencies.

No empty promise: every claim and result has been scientifically proven by independent laboratories. And each Visoanska cosmetic product contains up to 13 patented technologies and 34 specific actives with an active ingredient concentration identical to the optimal percentage shown in scientific studies - unlike the marketing subterfuge commonly used by some brands.

To guarantee beauty products that are really clean and as natural as possible, Visoanska skincare has published a "black list" of ingredients banned from its very ambitious formulas. More than 150 molecules considered harmful to the skin, health or the environment, and yet present in the majority of cosmetic products and creams available on the market, have been banned.

We find in the ingredients not used by Visoanska, among others and in a non-exhaustive way: Benzoates / benzophenones, BHT (Butyl-HydroxyToluene), Formaldehyde and molecules releasing formaldehydes, Diazolidinyl Urea, Diethanolamine, Silicones, Colorants, Hydroquinone, Hydroxymethyl glycinate , Imidazalidol urea, Lanolin, Laureth, EDTA, Compounds containing chlorine, Aluminum and Ammonium, Compounds from petrochemicals, Mineral oils, Monoethanolamine, Chemical sun filters (PABA, Ethylhexyl methoxycinamate ...), Synthetic perfumes, PEG, Phthalates , PVP, Sodium Lauryl Sulfate, Parabens and phenoxyethanol, Triclosan, Triethanolamine ...

Visoanska clean skincare products

Formule Jour & Formule Nuit

Visoanska's nutri-cosmetics natural anti-aging food supplements

Formule anti-âge extrême Visoanska : the best of adaptogenic plants from extreme nature
The effectiveness of Visoanska natural care products
The scientifically proven effectiveness of Visoanska skin care is the result of the selection of natural active ingredients with properties meeting very strict criteria and having complementary and above all not antagonistic properties.

The Visoanska brand has focused in particular on plants living in extreme biotopes and subjected to violent attacks every day, which gives them interesting properties due to their ability to adapt to these very difficult environmental conditions.

The natural bio-active ingredients used in Visoanska beauty products find their origins in plants from extreme natural environments :
in the scorching heat, like the sleeper on the Sahel that survives in the most desert regions of the Sahara or the sea fennel sometimes burnt by the sun, sometimes whipped by waves, winds and spray, sometimes submerged under water.
extreme cold, such as Pseudoalteromonas antarctica - a microorganism living at the bottom of Antarctic glaciers, which has been shown to be unbeatable in the production of collagen I, IV, and elastin or even a brown algae over twenty meters long, originally from the Kerguelen Islands.
eternal summits, such as the edelweiss flower with astonishing antioxidant and anti-free radical properties or the Rhodiola crenulata from the desert plateaus of Tibet, at an altitude of nearly 5,000 meters, star of the Tibetan pharmacopoeia since the 16th century.
unfathomable depths, like these microalgae that live at more than 3000 meters deep, where any chemosynthesis seems a priori impossible, or the Alteromonas macleodii, discovered in hydrothermal sources, at 2600 meters deep off the coast of Mexico where it survives to hyper-toxic fumes projected at over 350 ° C… like a breath of life in the throat of hell.

Biotechnology is then used to isolate the active ingredients from these plants. This set of innovative processes breaks down the molecular compound of a plant to extract specific molecules that have a beneficial effect on the skin and remove harmful (eg allergens) or unnecessary molecules.

The advantage over conventional extraction techniques is that the isolated molecules are much more concentrated and efficient and that we can avoid the side effects that are linked to the use of certain plants.

Two exclusive complexes were then formulated by Visoanska from these extraordinary bio-active molecules:


The Extreme Longevity Complex, which fights the causes of aging at the molecular level, and naturally increases the cellular and tissue longevity of the skin. This complex will therefore have an anti-aging action, protect the skin against external aggressions, strengthen it, accelerate the healing process and even the complexion.
The Extreme Survival Complex, which offers intense natural regeneration and protection, by strengthening the energy stored in the cells. A valuable shield against environmental stress, this complex will thus stimulate the longevity of genes and improve the texture of the skin.
Credits: Visoanska