Schmidt's
Looking for a natural deodorant that actually gets the job done ? Schmidt's will have you change the way you think about deodorant !
Endorsed by natural lifestyle guru Alicia Silverstone, Schmidt's deodorants were created by Jaime Schmidt in Portland (OR) as she was pregnant with her son and was desperate about finding effective natural deodorant as she found out that conventional deodorants are formulated with ingredients that don't belong anywhere near the delicate underarm area.
Not only Schmidt's natural deodorants are 100% free of aluminum, parabens, phthalates, and gluten but their award-winning and fast-absorbing formula works all day, feels great on the skin and smells incredible.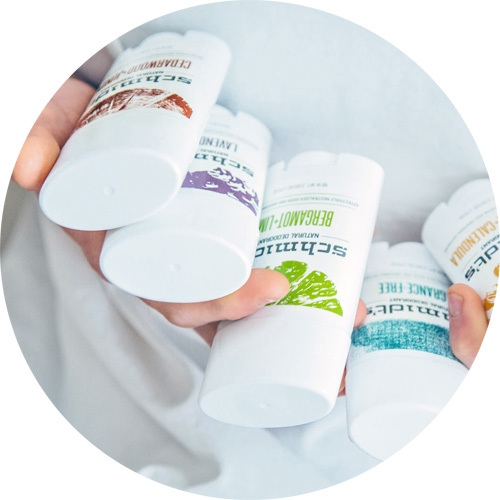 Know more about Schmidt's
SCHMIDT'S

Schmidt's 100% natural deodorant sticks or jars neutralise bad odours without blocking the skin's natural perspiration process.


Made with or without baking soda, with or without perfume and essential oils, they are suitable for all types of people and are all unisex.


Made from plant-derived ingredients, minerals and essential oils, they are guaranteed to be free from aluminium salts, parabens and phthalates, and are all vegan and cruelty free.
History of the natural deodorant brand Schmidt's
History of the natural deodorant brand Schmidt'sIt all began in Portland, USA. Jaime Schmidt, a natural cosmetics enthusiast, was pregnant and decided to create her own deodorants to avoid putting harmful or suspected chemicals on her skin.



Demanding, she wanted products that were both natural and effective and that were good for her and her family, including her future children.



Without wanting to, she quickly changed the image that people have of natural deodorants, which are not considered very effective.



The reception of her deodorants by her entourage was more than positive, and she refined her formulas until she received unanimous reactions before starting to market them and meeting with the worldwide success that we know.



From her kitchen, Jaime has revolutionised the world of natural deodorants by proving that it is possible to combine naturalness with effectiveness.

Jamie Schmidt's makes his deodorants in his kitchen in 2011 - credits Schmidt's natural
Schmidt's brand commitments and values
Schmidt's stick deodorants - credits Schmidt's Natural

Natural and effective deodorants



Schmidt's deodorants effectively neutralise unpleasant odours and absorb underarm moisture.



They are quickly absorbed without leaving a greasy or sticky finish on the skin. In addition, their stick format makes them easy to apply.



A deodorant for all skin types, even the most sensitive



There are two ranges of Schmidt's natural deodorants.



Firstly, there is a range of deodorants containing sodium bicarbonate.



The scents of Rose & Vanilla, Bergamot & Lime, Lavender & Sage, Ylang Ylang & Calendula, Charcoal & Magnesium as well as Cedar & Juniper...



This Schmidt's deodorant is perfect for people who sweat a lot.



The second range is for sensitive skin and does not contain bicarbonate of soda.

There are Pineapple & Coconut, Jasmine Tea, Lavender, Geranium, Tea Tree...



In each of the ranges are available deodorants without perfume and without essential oils for people who do not wish to have odours but also for pregnant women.



Unisex deodorants



All Schmidt's natural deodorants are suitable for both men and women thanks to their light and discreet scents.



A "clean" composition



Schmidt's 100% natural deodorants are made from ingredients derived from plants and minerals.

The essential oils they contain protect and care for the underarms: one of the most sensitive areas of the body. This is where the lymph nodes are located. They play a major role in the body's defence system as they are home to immune cells.



All Schmidt's deodorants are exclusively free of artificial fragrances, aluminium salts (and aluminium in the broadest sense), parabens, phthalates, propylene glycol, sodium lauryl sulphate (SLS) and PEG (polyethylene glycol).



Cruelty free and Vegan



All Schmidt's products are certified Vegan and Cruelty free (not tested on animals).

They are therefore respectful of your skin with their natural ingredients but also of the environment and the animals.
The bestsellers of the Schmidt's brand
Popular plus: Bergamot & Lime deodorant


Its unique formula contains plant powders that neutralize perspiration.

Bergamot and Lime essential oils leave a fresh citrus scent on the skin.


This deodorant contains shea butter for intense hydration and nutrition. It softens and repairs to keep skin balanced and toned.

It also contains Marante, an absorbent and purifying agent, which matifies the skin and coconut. Rich in lauric acid, anti-bacterial, anti-fungal and anti-microbial, it deeply nourishes the skin.

Bergamot has a soothing, refreshing, anti-inflammatory, antioxidant, antibacterial and toning action.

Lime essential oil is soothing, energising and toning.


Floral bonus: Jasmine Tea deodorant


The Sensitive version of Schmidt's natural deodorant is formulated without sodium bicarbonate to protect the most sensitive and reactive skins without risk of irritation.


Its subtle and flowery scent will leave a delicate and enchanting perfume on the skin.


It contains Shea butter, Marante and Jojoba oil with dermo-protective properties. Its anti-oxidant action nourishes and moisturises the skin in depth.


Freshness: activated charcoal & magnesium deodorant


This Schmidt's deodorant with its fresh and energizing scent will seduce many.


It contains shea butter with dermo-protective power, as well as arrowroot and coconut, which will purify and nourish the skin in depth.


Its plus? It contains activated charcoal, rich in activated carbon and minerals, whose absorption capacity is extraordinary.

Magnesium also has its place: it is a revitalising trace element with anti-inflammatory properties that soothe irritated skin.

Schmidt's Natural Deodorants - credits Schmidt's Natural
Health: the evils of industrial deodorants
Alcohol, aluminium salts (which appear under the name "Aluminium" followed by another word such as "Aluminium sulphate"), antiperspirant: these are the words to banish from the list of ingredients or the label when choosing a deodorant.

These ingredients are bad for the skin and above all have an impact on health.

If you are unsure about an ingredient, the site "The Truth About Cosmetics" offers a system for evaluating the quality of the ingredient.



They are used to close the pores due to their aggressiveness on the skin which causes irritation: as a result, to protect itself, the skin closes its pores through which perspiration can no longer pass. They thus prevent perspiration, which is a natural and necessary phenomenon for the human body.



Numerous studies have shown that they are involved in certain diseases such as Alzheimer's disease, but also in many cancers such as breast cancer.



With natural deodorants there is no such risk to your health.

They do not contain any of these substances and are just as effective. The skin is protected, it breathes and is not attacked in any way.
The schmidt's brand is finally available in Lyon at ecocentric
The range of Schmidt's natural deodorants is growing at Ecocentric!

It is now possible to find all the scents for all skin sensitivities in the shop at the Grand Hôtel-Dieu located at 9 Rue Marcel-Gabriel Rivière 69002 Lyon.
Credits : Schmidt's