Pocket "Nïka" (S-M-L) - Black & Sequins
Description
Pockets (S-M-L) Nïka black by La Vie devant Soie
Lovely bag available in 3 sizes (S-M-L) in black cotton covered with glittery tulle.
Small size - S :
Ideal size for a small wallet .
Dimensions : 15 cm x 10 cm
Medium size - M :
Ideal as makeup bag or larger wallet.
Dimensions: 21 cm x 14 cm
Large size - L :
The large format is perfect as pouch tote or connector kit ...
Dimensions: 32 cm x 22,5 cm
This product has nothing to hide
Complete INCI list of ingredients
×
We always update changes when noticed, but please refer to the information on your product packaging for the most up-to-date list of ingredients.
Reviews & Questions
Your reviews about : Pocket "Nïka" (S-M-L) - Black & Sequins
Write a review
About : La Vie devant Soie
En 2003, Sandy Blain, alors ingénieur en mission humanitaire au Cambodge, rencontre des femmes couturières et tisseuses de soie, qui n'arrivent pas à trouver du travail. Elle décide de tout quitter et fonde La Vie devant Soie. En permettant à ces femmes d'accéder à l'indépendance, en leur offrant « une vie devant elles », La Vie Devant Soie devient l'une des premières marques de mode à promouvoir une éthique sociale. Les sacs La Vie Devant Soie allient modernité et savoir-faire ancestral, éthique et démarche écologique : la soie sauvage …
Add to shopping bag
-60%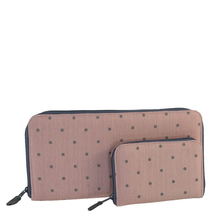 La Vie devant Soie
Wallet "Alceste" (S-L) - Vintage pink & Dots
51,00 €
20,40 €