Less is More Cologne sample
Description
Select the Less is More organic Eau de Cologne sample of your choice.
(Fragrance vials with vaporizer, 1,8 ml)
This product has nothing to hide
Complete INCI list of ingredients
×
Use the Less is More cologne pure, directly on the skin or hair or even on your pillow, scarf or handkerchief. Refresh as needed during the day.
To create your own unique fragrance mix the colognes as you wish.
We always update changes when noticed, but please refer to the information on your product packaging for the most up-to-date list of ingredients. Always check and follow the instructions for use written on the packaging.All sales are final on this unsealed product.
Complete your natural beauty routine
Add to shopping bag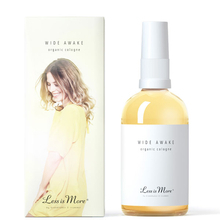 Less is More
Organic Cologne - Wide Awake
78,00 €
Add to shopping bag
Less is More
Organic Cologne - Me & my Sunshine
78,00 €
About : Less is More
When stylist experience, biomimetics and aromatherapy combine : Less is More, an innovative organic salon hair care and shampoo line emerges, combining functionality, health and environmentalism with indulgent pleasure.Less is more natural hair care products' innovative formulas exclusively contain natural ingredients, chosen for their effectivity, purity and optimal tolerance by both skin and the environment.Less is More now also takes care of your skin with a complete range of potent facial treatments with botanical extracts of Alpine plants …