Your e-shop to buy Kjaer Weis products online
LES ORIGINES DE LA MARQUE KJAER WEIS
Découvrez et adoptez le maquillage bio de l'américano-danoise Kjaer Weis. Lassée de rencontrer des problèmes d'irritation dus aux produits de maquillage "conventionnels" et jugeant les cosmétiques naturels insatisfaisants, la maquilleuse chevronnée Kirsten Kjaer Weis a décidé de créer sa propre marque. Ultra pro et performants, les produits cosmétiques naturels Kjaer Weis sont devenus cultes dans toute la beauty sphere.
LES ENGAGEMENTS

KJAER WEIS
En utilisant uniquement des ingrédients naturels sélectionnés pour leur bio-compatibilité avec la peau, les produits Kjaer Weis agissent pour embellir et prendre soin de la peau. Les fards à joues, rouges à lèvres, fonds de teint et mascara Kjaer Weis sont certifiés biologique. Le maquillage Kjaer Weis ne s'arrête pas à la performance, pour la créatrice, la raison d'être du maquillage reste avant tout de mettre en valeur la beauté naturelle d'une femme.
La marque de maquillage Kjaer Weis a également une démarche éco-responsable : les étuis poudriers en métal Kjaer Weis ont été conçus pour être rechargeables et réutilisables, grâce à un ingénieux système de recharges.
LE PRODUIT CULTE

KJAER WEIS
Le mascara de la marque Kjaer Weis est une vraie révolution dans le monde des mascaras bio. Sa formule naturelle s'applique et glisse facilement, dopant instantanément le volume des cils et avec un tenue longue durée. Comme tous les produits makeup de la marque, le mascara Kjaer Weis est rechargeable.
Kjaer Weis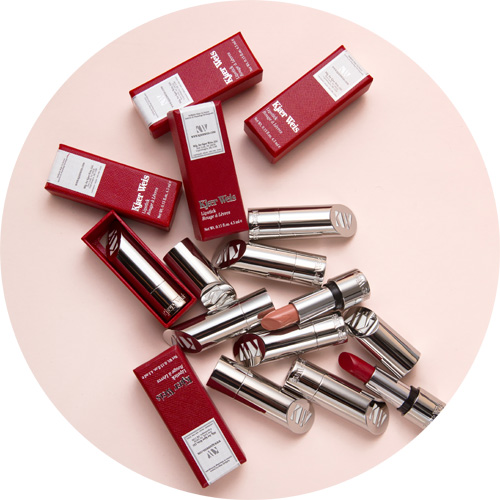 Kjaer Weis does organic makeup with a luxury feel. Refillable, high performance and organic certified cosmetics that have already taken the US by storm.
Kirsten Kjaer Weis, a New-York-based Danish makeup artist, wanted to cut the chemicals from the models' beauty routine as they were always complaining of dry skin, breakouts, rashes and sensitive eyes. She created the Kjaer Weis' all natural makeup line with sheer textures and organic ingredients.
Free of parabens, mineral oil, silicones, synthetic fragrance and colours, Kjaer Weis' luxe organic line comes packaged in stylish refillable metal compacts designed by famous Marc Atlan.