Kjaer Weis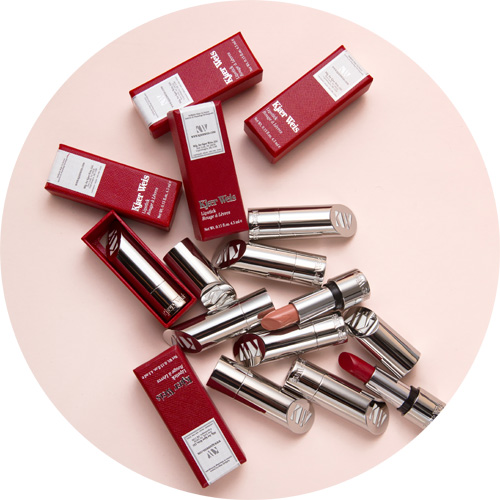 Kjaer Weis does organic makeup with a luxury feel. Refillable, high performance and organic certified cosmetics that have already taken the US by storm.
Kirsten Kjaer Weis, a New-York-based Danish makeup artist, wanted to cut the chemicals from the models' beauty routine as they were always complaining of dry skin, breakouts, rashes and sensitive eyes. She created the Kjaer Weis' all natural makeup line with sheer textures and organic ingredients.
Free of parabens, mineral oil, silicones, synthetic fragrance and colours, Kjaer Weis' luxe organic line comes packaged in stylish refillable metal compacts designed by famous Marc Atlan.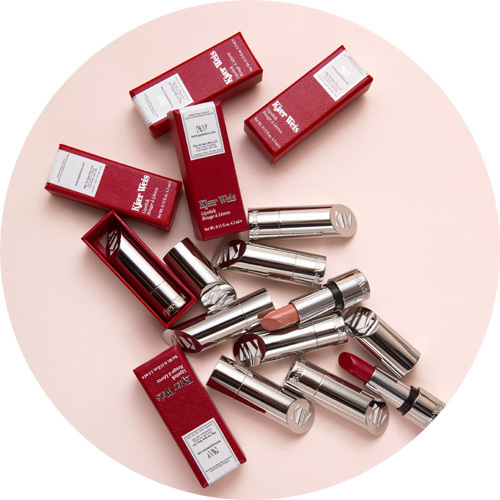 Know more about Kjaer Weis
Why we love KJAER WEIS ?
Professional-grade organic makeup
The know-how of the founder and make up artist Kirsten Kjaer Weis
Its clever & ecological refills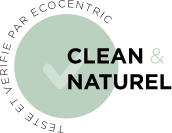 KJAER WEIS

Kjaer Weis is a premium line of natural and organic make up products that recognizes health and beauty equally without compromising luxury or performance.

Created by Danish-born, New York-based makeup artist Kirsten Kjaer Weis, this high-performance cosmetics line comes in a gorgeous signature Kjaer Weis silver compact designed to be refillable.

Organic and harm free, Kjaer Weis' makeup products are created from the most luxurious natural ingredients in the world in order to nourish and work with the skin, not against it.
History of the Kjaer Weis brand
Kjaer Weis was founded by veteran makeup artist Kirsten Kjaer Weis as she noticed that every woman that sat in her makeup chair for magazine covers and fashion shoots had at least a few "conventional" makeup products they found irritating to the skin.

Beside the short term effects like breakouts and rashes of these chemical-laden products, what would be their long term effects like ? Kirsten Kjaer Weis wanted to find another way, it had to be a more natural and safer choice !

But most natural and organic makeup products Kirsten experienced could not achieve high performance and professional result as the one she used to work with. Kirsten decided to launch her own line : Kjaer Weis makeup brand was then created to fulfill a need for high-performance natural and organic color cosmetics.

It was the beginning of a 8 year journey to develop Kjaer Weis formulas that will offer the perfect balance between nature and performance. And once the formula found, how to ensure it will be stable without any change in color and consistency from batch to batch ? It was like wines from the same vineyard changing in taste every vintage.

Kirsten Kjaer Weis partnered with an Italian natural makeup manufacturer that knew how to cope with natural-origin raw materials so that the Kjaer Weis make up products are uniform in color, consistency and texture every time. The process is as close to a hand-made product as you can get and each batch is personally inspected by Kirsten.

Kirsten Kjaer Weis, KJAER WEIS founder
Kjaer Weis brand philosophy
KJAER WEIS' organic makeup range

At Kjaer Weis they believe the best use of makeup is simply to enhance a woman's natural beauty : "You want people to notice how great you look, not how great your makeup looks." as Kirsten Kjaer Weis says.

Using only the highest quality natural and organic ingredients chosen for their color and bio-affinity with the skin, Kjaer Weis products work to rejuvenate the skin.

Indeed, you will find not any questionable chemicals women are commonly applying to their skin everyday : Kjær Weis makeup contains no parabens, silicone, petrochemical emulsifiers, synthetic fragrances, or any of the "bad" stuff.

Only ingredients rich in nutrients the body celebrates, not something it's trying to fight.

With Kjaer Weis, you will no longer have to choose between makeup that's chemical-free and makeup that works well.

The all Kjaer Weis make up line is made in Italy and all of their products are either Certified Natural or Certified Organic by the Italian organic inspection body, CCPB (Controllo e Certificazione Prodotti Biologici).

Currently, Kjaer Weis's Cream Blush, Lip Tint and Mascara are Certified Organic - 95% of ingredients that can be deemed organic are certified organic, and Kjaer Weis' Eye Shadows are Certified Natural.

Some Kjaer Weis natural makeup products can indeed not be Certified Organic as they contain higher levels than 5% of materials that, while still natural, are not from farming and then cannot be certified organic.

These ingredient are wild crafted and from non-supervised area where no fertilizer, nor pesticides are used. For example bamboo silica comes from bamboo grown in the wild.
Refillable make-up by Kjaer Weis
Kjaer Weis makeup products does not limit to high performance natural colour cosmetics, the american beauty brand is also socially responsible and environmentally friendly.

The Kjaer Weis metal compacts were designed to be refillable to reduce waste and be reused with Kjaer Weis' intelligent refill system. Even the Kjaer Weis Mascara can be refilled !

Kjaer Weis refill pans are available in simple paper cartons that are fully recyclable. Even the refills were designed to be beautiful.

And as Kirsten Kjaer Weis wanted something unique and modern, sustainable principles and a high standard of design, she looked to award-winning creative director Marc Atlan for the branding, structural and packaging design.

Marc Atlan, Comme des Garçons brand designer, created the sleek, glamorous, gorgeous silver signature "KW" compacts.

And to protect them : red lacquer, grain-textured boxes, like little jewelry cases.

From production of the makeup itself to packaging, Kjaer Weis makes no compromises. You don't need to choose between quality and safety, design and eco-friendly principles... With Kjaer Weis makeup brand, you can have it all !

Kjaer Weis' intelligent refill system
Credits : Kjaer Weis